Reliable databases are now essential for the growth of new businesses. The B2B data suppliers emerged to offer businesses verified contact details that, if handled properly, may turn into reliable leads. The correct prospects can be targeted at the right time. Sales and marketing teams may create personalized email campaigns and engage website visitors through remarketing campaigns and more accurate contact data. However, as every firm has a unique set of data requirements, not every data supplier will be a perfect fit for every business. To choose the most appropriate B2B data provider, it is essential to consider factors like the firm size, pricing point, and data-based goals.
To create realistic ICPs and buyer personas, sales and marketing representatives find enormous benefits in accessing and segmenting these real-world B2B connections. Additionally, they can get in touch with them by using sophisticated cold-calling campaigns, tailored cold-emailing techniques, and other account-based marketing (ABM) techniques. The ability of sales executives (SEs) and sales development representatives (SDRs) to quickly filter prospect information and compile extensive target account lists is the most important feature of a B2B database. AverickMedia is one of the best B2B database providers with unique attributes. Here's how can a database provider can help you gain benefits.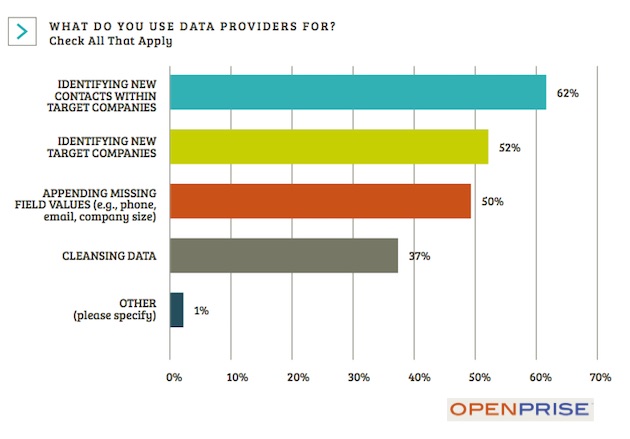 Source: marketingprofs
The Top Competitors and Alternatives of AverickMedia
A multi-channel sales engagement data helps customers grow their income daily by enabling them to make more phone calls, have more conversations, and send more emails. However, our platform works best when your B2B sales team has access to high-quality data. Here are the best options besides AverickMedia to grow your brand visibility.
1. Adapt
Adapt includes data from 100 million company contacts from various industries, including software and the internet, financial services, telecommunications, and transportation and storage. Their information is regularly developed and updated through their crawlers, social media, and community of more than 300,000 individuals and is human-checked for accuracy and up-to-date information. You can create your target ICP using Lead Builder from Adapt using filters for industry, department, revenue, personnel count, geography, and more.
Main Characteristics:
Sales navigation and sales insights specialized products
40+ sophisticated search filters
Network with more than 800 million users
Real-time notifications and contact data
Integrations and partners for compliance
2. Linkedin Sales Navigator
LinkedIn Sales Navigator allows sales teams to manage their target account lists and incorporate them into their CRM while also receiving notifications of new, pertinent matches and actions taken by those accounts. It is directly connected to the most well-known B2B data social network in the world.
Main Characteristics:
Relevant information such as business size, organizational structure, and CRM direct compatibility
Live data collection from website visitors is offered by Adapt Web Platform.
Lead scoring using important data points
Every week, there are two million database modifications.
3. Lusha
With just one click, add actionable data to the lists you've already pushed to your preferred tool. You can quickly score, route, and update your pipeline with correct information at all moments. Get immediate insights on your ideal customer profile based on previous searches. Find the sources that generate the most leads to meet your KPIs sooner. Easily create your lists using precise and useful prospect information. Export lists to your CRM with a single click to automate workflows.
Best Features-
Fresh data
Data privacy
Exact Data attributes
Relevant contacts
Unrivaled data quality
4. Lead411
Lead411's contact data includes verified direct dial phone numbers, emails, trigger notifications (such as employment changes, compliance needs, and changes in items or prices), and lead intelligence insights. The sales teams may identify businesses and connections who are actively looking for their products owing to the Bombora Intent Data the company provides within its platform.
Main features-
7-day free trial with valid email addresses
50+ B2B direct dials.
Marketing services enable the establishment of unique lists.
The lead score identifies organizations that are rapidly expanding.
Chrome addon for direct dial and email search
5. Dun and Bradstreet Hoovers
D&B Hoovers is a sales acceleration tool that offers a quicker route from prospect to a lucrative partnership by utilizing data and analytics. B2B salespeople may interact with clients more quickly, benefitting their company's expansion. D&B Hoovers creates a sales intelligence solution filled with information by fusing the complete business data from the Dun & Bradstreet Data Cloud with slashing analytics.
Exciting Features-
Target more strategically
Improved Engagement
Improved Engagement
Align marketing and sales
Outsmart your rivals with intent
Collaborate with B2B Data Providers to Increase Lead Generation
There are excellent solutions for all company sizes and B2B database market demands. Some data suppliers continue to compile carelessly chosen contact lists to have a sizable, eye-catching offering they can provide. Massive data sets don't always equate to high-quality contacts, which have the potential to catapult a business to new levels. Because of this, decision-makers should carefully examine the individuals who are providing the data and gauge their level of commitment to the success of their partners. Are You Prepared to Increase Sales & Close More Deals? Gain thousands of B2B business data to increase sales and improve brand visibility nationwide. Get the most precise B2B database to close deals faster through the suggested alternative and competitors of AverickMedia.