Email List: An Overview
Consider a period when you wanted to communicate an important message to a large gathering of individuals. How did you communicate with everyone at the same time? Did you phone each person individually, post on their Facebook timeline, or mail postcards? Instead, you probably sent a standard mass email. With nearly 2.6 billion active email users today, email remains the most dependable means of digital communication. That's a lot of email activity, and it's a terrific chance for you to start developing your first email marketing list!
Business Email Lists are lists of email addresses that are used for mass information transmission. Email subscription lists are used by work teams, college students, teachers, parents, and community groups to interact with one another. Email connects managers and staff, but businesses frequently use email id lists to stay in touch with their customers. Customer email lists are a great marketing asset since they provide businesses with another way to sell more things, generate interest in upcoming events, and stay on the radar of their customers' connections. Consider your own personal email list experiences. Have you ever provided your email for rewards at a retailer and then got emails? After providing the business with your name and email address, you were added to a list of business emails so the company could send you future offers, newsletters, event reminders, and other information.
The importance of an Email List in Email Marketing
According to stats, Email marketing generates a 4300% return on investment (ROI) for businesses in the United States. Email subscribers are tremendously interested in what you have to offer because they joined your email database through your website and validated their identification by clicking on a CTA. Hence, they are more likely to become paying customers. In terms of conversions, email list conversions are ten times higher than social media efforts.
This makes sense when you consider the reasons why email is such an effective communication tool: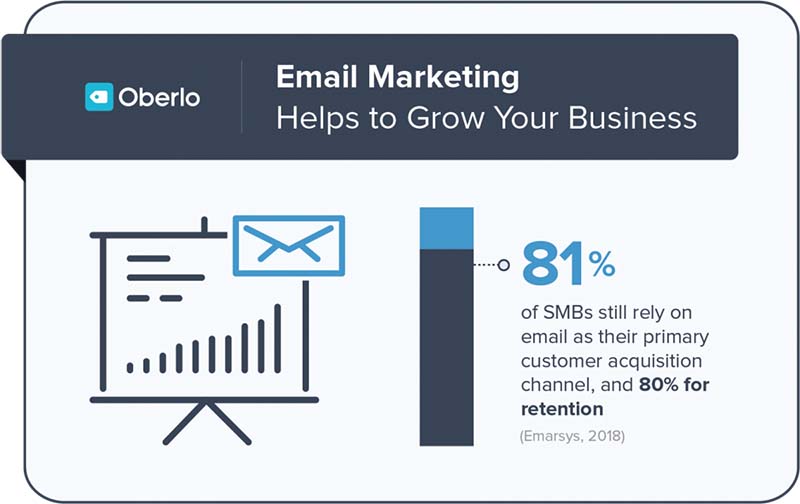 Image Source: Oberlo
Email is private
You can reach a user's mailbox via email. There is no ranking system that restricts your reach. It's direct and personal.
Email serves a Purpose
A user signs up for your valid email address list and confirms their email address to get updates from you. Someone who is putting forth this much effort is obviously interested in hearing from you, and they are far more open to your message.
Email is personalized
As previously stated, the user has expressed an interest in your product or content. Because you already know what they enjoy, you may target them with highly relevant offers for greater results. This is known as segmentation. You can segment your list of email addresses based on demographic criteria and send personalized contents that are relevant and unique to each group.
You are the sole owner of your email list
You do not have control over Facebook, Twitter, or Google. When these platforms' policies change, your social media marketing and SEO efforts may be rendered ineffective. On the other side, you own your contact lists, and it is unaffected by the decisions of other companies.
Email is personal
Email is personal. The message is not accessible via a public timeline or newsfeed. They can confidently ask you questions directly in private. This contributes to the development of trust and connection.
The advantages of an email list in email marketing
Your subscriber list is a reflection of the interest and trust that your subscribers have in you, specifically because they place value on your brand. Nonetheless, let's look at some of the major benefits that will greatly benefit your email marketing endeavor.
1. High-Quality Leads
If you can access an email directory, you can obtain high-quality leads at a low cost. The list of emails includes verified information provided by businesses for their convenience. So, without question, the mailing lists will provide you with sales-ready leads.
2. High Conversion rates
If you operate an email marketing campaign with a verified email list, you can expect high conversion rates. The reason for this is that the data for the email lists were obtained via a very secure method that incorporated security protocols and issues. Opt-in email and privacy compliance are all used to improve the accuracy of the email address list.
3. Personalization
Based on the information your organization has gathered about them, mailing lists will allow you to customize an experience or message to top decision-makers in any industry. You can design experiences or communications based on the facts you learn about prospects and clients.
4. Segmentation
Demographic segmentation is one of the most appealing reasons why marketers want to buy email lists. Because it allows marketers to segment consumers based on demographic and psychography attributes such as age, gender, marital status, family size, occupation, education level, income, race, country, and even religion. This makes marketing incredibly targeted and generates a large number of sales leads.
5. Increased ROI
How might Opt-in email lists improve ROI? The answer is properly addressed in the preceding statements. If you successfully integrate personalization and segmentation, your ROI will undoubtedly grow. Furthermore, the additional benefits that mailing & email Lists provide will aid in increasing your overall return on investment. These include good email deliverability, cost-effectiveness, client engagements, and a variety of other factors.
Should you invest in an email list?
If you've been around for a while, you're probably aware that email marketing offers a greater ROI than all other marketing approaches. This is true in almost any industry and essentially demonstrates how much money you can make if you decide to sell products/services to your subscribers. In the long run, this makes email marketing one of the most effective digital marketing tactics for growing your organization. Furthermore, email lists are an excellent tool to leverage email marketing's best benefits. A mailing list will allow you to connect with millions of decision-makers worldwide without any effort from your side. To top it off, email addresses are a low-cost investment, ensuring you generate an all-time high ROI for your business. As a result, we advise you that you should invest in an verified email list that has been segmented to meet your target demographic within minutes.
Wrap-Up
The email database includes a wide range of data attributes that can be adjusted to the individual's needs. A reliable data source ensures that the database is always up to date and verified. If you have access to the industry mailing list, you will never miss out on a possible prospect.