Since we are talking about COVID-19, let me start from scratch. COVID-19 is a virus that has emerged in December 2019. Well, to make it simpler, let us look at a similar example for this situation from the past.
The Spanish flu, which is also known as the 1918 Influenza flu, was an unusually deadly pandemic more like the coronavirus, with very similar symptoms. It was hard to control the outbreak back then with limited innovations and methods, and it infected over 50 million people. COVID-19 is one such case, but let us say it is going to leave us with some enormous shifts to remember and adapt too.
Though COVID-19 has not effected as many as the Influenza virus did, it is has tied everyone to a single place. The best part is, it will pass. How? Well, because so did Spanish flu, so did the great recession and many such challenges.
The advantage 2020 has over the other times that there was a global issue is, 2020 is highly advanced. Advanced to an extent where thousands of vaccine trails happen in one single day.
Among everything that gets hit by this pandemic is, businesses. Businesses are facing a tough time, and it is clear. Whenever there is a new barrier to tackle, we either come up with innovative moves or new reflexes. It is what has happened to businesses, if not wrong.
Traditional marketing methods have changed to digital channels, meetings have become virtual, and working has become remote. Now, what many think is that this is only here until the pandemic leaves. What a multitude of surveys says is quite different. These changes are more likely to stay.
Though these new adoptions are going to stay, the main challenge comes from making up to every missed challenge. Here are some key strategies to see more effective results in the new normal.
Identify the Growth Pockets:
Do you think traditional forecasting methods are going to be just as effective as they were before? It's a direct no. The economic scenarios will emerge over the next few years, leaving varied demand patterns across sectors and industries. The recovery from the pandemic will be different for different countries, states, and even cities. The product mix or current customer base cannot give businesses the same historical achievements.
Businesses need to gain agility when it comes to identifying new opportunities in the new normal. To acquire real-time visibility into the market, you need to evaluate competitors, leading indicators as well as COVID-19 specific data. After the compilation of this data, you can create different scenarios of customer acquisition, segmentation based on various parameters.
Remote Sales is About to Stick:
It is a different kind of challenge dealt with, the COVID-19 situation. Where social-distancing has taken over every aspect of life, how can it not take over marketing and sales? How you are even supposed to when you cannot meet the buyer? The solution to that is remote buying and selling.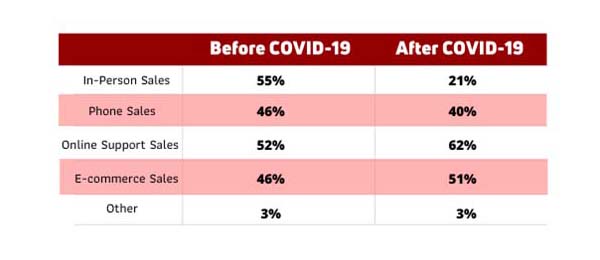 Unlike most of the changes, this shift has a positive impact on businesses. When you want to battle the challenges of the Post COVID-19 market, it is mandatory to be innovative in new selling and marketing techniques, and not go back to the traditional methods.
Adapt to prices that suit customers:
What was the most prominent thing in businesses after the pandemic? Without a doubt, it was the cost reductions, Reduction in costs in terms of production, supply, and everything in-between.
Buyers are looking for deals though the situation is unstable. To play safe many businesses keep their pricing at their same level as before. But this strategy is more likely to never work out for them. Businesses willing to make additional deals, irrespective of the environment can score the roof. These businesses are more likely to acquire more customers, whether it is a B2B Company or a B2C Company.
Win Big by Investing in Innovations:
"Look at the big picture," it is an astounding phrase. Innovation can draw more benefits than usual day-to-day improvements and engineering of existing products. To keep away from risks you may tend to move away from innovations in any part of your business.
Telemedicine
Virtual Classes
VR and AR Workshops
Virtual Businesses Solutions
All of these are great examples of innovations during the pandemic, and they turned out to be good. Taking up new challenges are always pathways to more opportunities. COVID-19 has shifted demand in unexpected ways, and being innovative can get you and your business ahead of the others.
Turbo-charge Digital Interactions:
Digital interaction is 2X more important to customers then they were before the pandemic. Many businesses are already on their way to introducing and enhancing business channels. These improvisations can be new digital marketing platforms or the adoption of e-commerce in the business.
Wrap Up:
COVID-19 is already rewriting the future of businesses. This is where organizations will develop a trust-based culture will employees. Businesses will help customers be more helpful, and remote work will become strategic. All of this will have standard operating processes to level up. It will also have the best leaders to break out and improve workplace culture.
When you can align your business in the right recovery strategy, it can fetch the business effective outcomes.