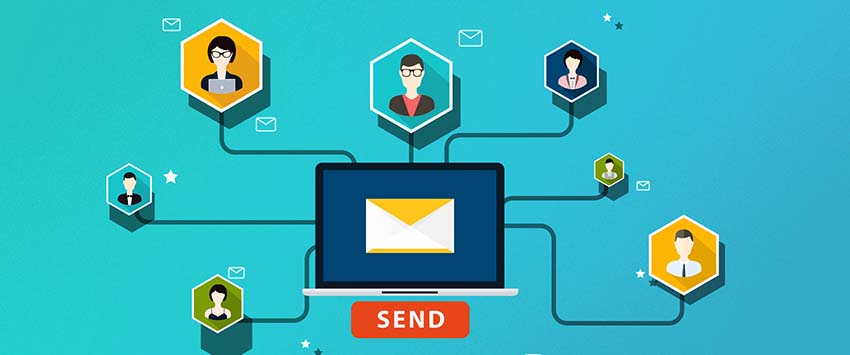 Email marketing is one of the most effective ways for businesses to reach prospects directly. The primary reason marketers send their emails to prospects is to buy their products or services and converting them into customers. Email marketing is one of the easiest ways to increase customer engagement.
By sending right messages and promotions you can increase engagement and sales. Here are the 5 easy ways to improve your email marketing efforts to better connect with your audience and increase engagement.
1. Segmenting Your Email Lists
If you've been using email marketing before, you might have come across the term segmentation. Email list segmentation is an email marketing technique where you can segment your email list based on any requirements. It is a technique used by businesses and marketers to send related information to the particular people in an email marketing list.
In marketing terms, it refers dividing people into groups based on the following selects like interests, demographics, age, and websites browsing behavior that can help maximize the relevance of email content and offers for each subscriber.
Why Segmentation?
Email subscribers aren't all the same.
Subscribers expect related email content for their inboxes. By creating segmented campaigns you can make subscribers happy and increase your revenue.
In fact, in most cases 57% of people prefer to unsubscribe from business promotional emails because of irrelevant content. So, to solve these issues start segmenting your email list.
2. Create a call to Action
A call to action also known as CTA, it is a piece of content that encourages the audience to take an action such as buy now, subscribe, order now and more. In marketing terms, CTA usually leads to a landing page where a visitor can fill out a form and may become a customer.
If the goal is to get more twitter fans, the copy of the mail needs to be written around the objectives of getting twitter followers, and the call to action should be attractive and easy to follow.
Your CTA should offer something valuable to your subscriber - whether it is an eBook guide or discounts on your product or services. It should visually stand out and easy to follow, the impressive callout out box with a link and call to action can increase your click through rate (CTR).
3. Using different types of emails
Use Special Welcome Email:
A welcome email is the first impression a company makes with a new customer or subscriber through email. Welcome emails can deliver videos, promotional offers, and sign up forms to establish a relationship with new subscribers and encourage them to interact with your products or service.
Welcome Email Statistics:
Welcome emails have an average of 27% click through rate
Welcome emails have 92.31% open rate
76% of subscribers expect a welcome email as soon as they subscribe
Whatever it is it must deliver value.
Transactional Emails
According to a recent study, triggered emails generate more revenue and greater profits than bulk emails.
Transactional emails are also known as Triggered Emails or Behavioral Emails. Transactional emails are sent automatically based on the pre-defined events or conditions met by an individual through certain behaviors, actions, or other signals.
The primary difference between triggered emails and general emails are: triggered emails are automatically delivered to an individual on a one to one basis, while promotional emails are manually sent on a one-to-many basis.
Here are some common use cases for triggered emails:
Shopping Cart Abandonment - In e-commerce business where the customer adds items in a cart and leaves without completing a purchase, and so with the help of triggered email you can trigger a cart abandonment email to remind the subscribers to complete the checkout process.
Product View Abandonment - If a customer is browsing for any particular item on a mobile app but unfortunately leaves from it, with the help of triggered emails the recommended products searched by the customers makes them to re-engage after exiting from the mobile application.
With the help of triggered emails, businesses can engage the customers with the right message at the right time to provide customers a good experience.
4. Optimize your Subject Line
If subscribers trash the emails before they open and read it, it means they are looking for the good subject lines. The customer expects the email content to be related to their needs. So you should have a good and attractive subject line in your email messages.
When someone addresses us by our name we like it and feel good, but there are ways to get creative. An email service provider allows you to automatically show a subscriber's first name. You can use the first name in subject lines or in the body of an email like:
As in the introduction part of the email, provide details such as "HELLO First name"! We have missed you!"
In the recipient part which is TO field provide details such as "TO : First name
Or use subscriber's first name in the subject lines.
Based on my recent study, 27% of emails are more likely to be opened based on personalized subject line. Subject line personalization may include recipient's first name, location, transaction history or their events.
5. Communicate frequently with subscribers using post purchase emails
The best way to keep your subscribers engaged is by sending regular emails to the customers with relevant and personalized content. By sending post purchase emails like thank you, coupon codes, or any that provides value to the customers.
Now you don't want to send too many emails because the customers get fatigued when they open and read their inbox. Sending a mail weekly once is fine. You need to think about the content that how it is beneficial for your subscribers before sending an email.
Testing Your Emails:
A/B Testing is very important when it comes to the email marketing. Be sure to test your subject lines, and CTAs to discover what works best for your emails.
By implementing the above five strategies you will be well-equipped to write effective emails that capture attention and increase your customer engagement in businesses.