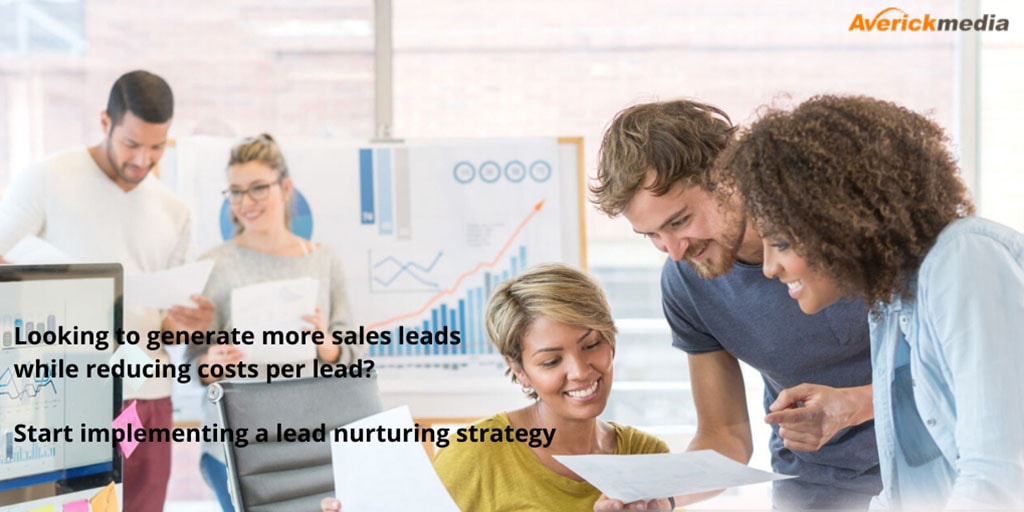 When it comes to successful marketing automation, one of the best measures you can take is to ensure that your emails are properly configured for successful lead nurturing.
Looking to generate more sales leads while reducing costs per lead? Start implementing a lead nurturing strategy.
What is lead nurturing?
Lead nurturing is the process of building relationships with prospective customers by providing them with relevant content at each and every stage of the sales funnel to earn their business from top of the buyer's funnel to the end of the funnel. It focuses on marketing and communication efforts on listening to the requirements of prospects and providing information that addresses their problems with the products or services offered by a company. Email marketing for lead nurturing is one of the most profitable ways to generate more sales.
Why do you need a lead nurturing strategy?
Building and maintaining strong relationships is still the key in this emerging world. Lead nurturing allows you to be active on the platforms where your customers are present, attract them and increase your chances of starting a business. To nurture sales leads, marketers need to provide content that represents their products as the best solution from others in the target markets.
If you are not convinced yet, here are some statistics that would help to shape your decision:
Almost 77% of new leads never become sales. The primary reason for underperformance is the lack of lead nurturing. (Marketing Sherpa)
Companies that specialize in lead nurturing generate 50% more sales leads at 33t% lower costs. (Forrester Research)
Smart lead generation businesses and business practices have a 9.2 percent higher sales success rate. (CSO Insights)
And that's not all – hardly 35% of B2B marketers have implemented a lead nurturing strategy, which ensures that you gain a competitive edge by implementing lead nurturing.
How to create an effective lead nurturing campaign
So now that we have covered what lead is nurturing is and why it's important. Now let us move into the next step. How to create a lead nurturing campaign? Here are the five steps that you can take to assure you attract more customers through lead nurturing campaigns.
1. Align Your Sales and Marketing Teams
Misalignment between your sales and marketing teams may be the key reason you fell behind in your lead generation efforts. Your organization can efficiently guide potential customers through the funnel when there is a collaboration between the people who drive leads and the people who transform those leads.
This ultimately leads to better sales and customer loyalty.
In fact, 57 % of the LinkedIn survey respondents stated that sales and marketing coordination will improve customer retention. And also, 52% of the respondents also thought that sales and marketing coordination will improve the financial performance of the organization.
Based on the research from Conversica study, Over 37% of respondents did not follow up on their inbound leads. Among the companies that followed up, 63% gave up after 1-2 attempts.
This demonstrates even when marketing has done its part to generate leads, there may be a lack of or inadequate follow-up efforts by the sales team.
Here are a few tips that could assist you align your sales and marketing teams:
Build a unified set of targets that you can calculate. In coordination in team goals may lead to a total in coordination between two teams. Define specific objectives that should be undertaken by both teams, such as the achievement of the revenue, percentage increase in revenue, a certain number of conversions, and etc.
Keep coming up with a formal process of qualifying leads and deciding when to pass them on to the sales team. A good lead scoring system will help with this process. In the next step, you'll learn more about this to nurture your sales leads.
The marketing team needs to get in touch with the sales team about the kind of buyer's information, so that will be most helpful to them. And by knowing the correct buyer's data to collect will also help your marketing team to ensure a simple process of more qualified leads through the funnel.
2. Set up a lead management process
This process ensures that only "hot" leads are addressed by the Sales Department while the "warm" leads were sent to the process of nurturing.
When you've placed so much work into generating leads, it's very important to have a lead management process in place to manage those inbound leads. In fact, a lead management process helps guarantee that your sales teams only communicate to some of the most eligible leads and filter out fewer ready-to-sell leads and so you can bring them into your lead nurturing plan. You may need to discuss and recognize how your business will manage the leads, how and where the leads will be registered, how the leads will be competent when the leads will be followed and what requirements the leads fulfill in order to enter the lead nurturing program.
I suggest that both sales and marketing teams be together in one office to discuss and decide on the whole project. This cannot be done by one individual alone, because you need buy-in from the other side to make this work.
It is also a smart idea to have your CRM responsible person with you. Most likely, you will be registering the leads in your CRM system and this person will be able to determine you whether you can able to do or not.
3. Collect useful data
For effective lead nurturing, the marketer should collect information about target buyers and what they need throughout the buying process. This information can be collected through interviews, surveys, keyword research, and so on.
Lead nurturing is all about sharing appropriate customized and targeted information to ensure that you stay on top of the buyer's mind. To do this, you need to get a quick overview of what types of customers you have and what kind of data they need in each step of the buying process.
You can do this by:
Interviewing prospects
Interviewing sales team
Mining in-house database to identify characteristics of best and/or worst customers
Interviewing customer service
Number of employees, offices
Using keyword research to pinpoint subjects of interest
Once this information has been collected, you can create personas that represent your prospective customers.
Personas are fictional representations of your potential customers based on demographics & online behavior data, along with educated speculation about their history, motives & issues.
They help us better understand our prospective customers and make it easier for us to customize content to the specific requirements, behaviors, and problems of various groups.
A buyer persona includes different demographics such as age, gender, nationality, and some personal background. This also includes the challenges/business difficulties of the customer and tells you what kind of data he wants.
Once you have created a persona, you can run a content mapping workshop with your team. Just set up a persona and then come up with ideas with different types of content needed at various stages, from awareness to evaluation to decision stages.
4. Develop a content plan
Marketers should build lead nurturing marketing strategies to better understand their schedules and to know when to send out relevant content.
To ensure that you keep the relationship with your leads, it's a good idea to create a timeline for content so you know when to send everything. In this stage, it can be very easy for you to nurture your leads.
5. Use email marketing to communicate your message
Content is important for educating and engaging leads and is therefore necessary for nurturing them. For example, your blog posts will tell them why they need your product because of all the ways that can benefit them. This can drive them further along the funnel.
Over 49% of people participants said they used content marketing to nurture their leads.
Instead of promoting your product or service and its features directly, create content around the pain points of your target audience. For example, let's say you're promoting a live chat platform. Instead of writing a blog post about the platform's functionality, you might create here about how businesses can enhance their customer service.
Develop content for buyers at different phases of the purchase journey. For example, you may create whitepapers and blog posts that address pain points for those in the early stages. You may also have case studies and testimonials establishing the interest for those towards the later stages. Creating different content types to target different buyers can help you produce content that is more relevant and targeted for each lead.
Develop educational content to establish the value and expertise of your brand, rather than to bring your products to people. This will slowly yield interests in the product and nurture your sales leads. You could create videos, online courses, webinars, whitepapers, and more.
6. Launch Your Campaign
Once the preparation works are done, it's the perfect time to launch your campaigns. Don't stop after investing considerable time to make this campaign successful. It is important to monitor campaign performance, listen to audience feedback (both through data and real-time interactions such as social media) and measure success against predetermined metrics.
Don't be scared to test the new strategies, particularly high-impact campaigns structures such as:
Email subject lines
Day and time that emails are sent
The time between emails
Call to action (CTA)
Offers
etc.
7. Measure, Analyze and Optimize Emails
Today's marketing is all about optimizing data to make smarter decisions. Your lead nurturing campaigns are no different. You used customer data to improve your campaign, then use the incoming campaign performance data to make it even better. This is a long term process; the best marketers are often searching for their performance benchmarks to find better ways to improve their user experience and to help them build more leads through the sales funnel.
Final Thoughts:
Using emails to nurture leads is one of the most cost-effective ways to build your sales pipelines. At the same time, nurturing leads is a medium-to-long-term investment. This is why you can't expect your third email to ring your tills. Following lead nurturing, strategies make the process efficient and productive. Pay attention to your subscribers to provide valuable things and use email marketing automation to build personalized campaigns.