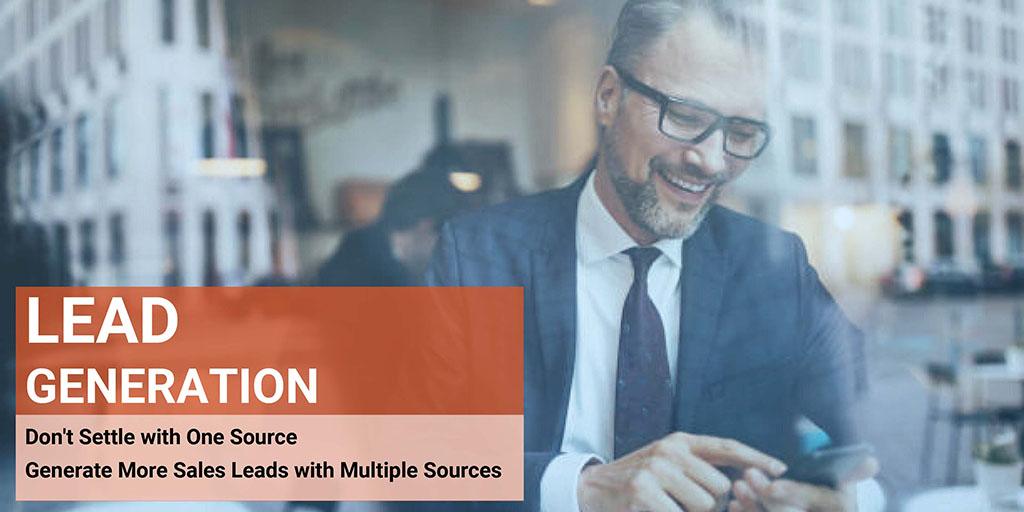 Lead Generation can be defined as the marketing process of attracting and converting prospects to leads into your business to develop sales. When it comes to business, driving leads and converting them helps to build visibility turning those leads into customers.
A salesperson looks for more leads, a marketer tries to implement and discover new ways to generate them. When your website visitor signs up for a newsletter on your website, that's one way a lead gets generated. When you market your product or service on social media and a visitor drops their contact details showing interest, a lead is generated.
Getting people to provide information about themselves, helps to add value to the growth of the business. That is a start for a lead into a business. You need to articulate the right values while channeling with your targeted audience to bring in lead generation.
Why is Lead Generation Important?
Lead generation is important as it helps to drive in more traffic to your business in return encourage more sales and higher conversion rates. When you have a good amount of traffic, you are creating a pathway for every searcher to find a product or service and to purchase it. With the internet and search engines today, prospects are able to find and connect with businesses globally. They are able to find potential clients looking for business solutions and lead generation. If you have a well qualified lead generation process, you can find the right fit of customers for your business needs. You could implement a lot of different methods and strategies for choosing the best option to provide the best quality lead generation.
Some of the best options to generate leads are through Content Marketing, Social Media and Advertising. Content Marketing can work wonders when it comes to generating leads. Content is one of the most popular strategies that one can employ for effective lead generation and for pre-selling it making it smoother for your sales team. Maintaining a regular blog can also help generate more leads. Social media is a great platform to make any business popular and known to potential leads. Since social media has a lot of traffic, advertising and promoting your business here can help bring it more leads to the website. Advertising as a lead generation tool is one of the most classic ways of generating new leads and is far more expensive than others.
As the marketing is changing with a rising need to adjust to various digital marketing tools and online services, many companies still use the traditional methods of lead generation which is the main reason resulting in failure. That is why a strategic lead generation process needs to be employed in order to receive a good traffic of qualified leads into the business.
Different ways to generate leads
As a B2B Marketer, the main focus and responsibility of your job revolves around generating leads for your sales team. It is imperative for B2B marketers to produce high-quality sales leads in order to understand the sales of B2B products and services. With more complexities involving sales, the more difficult it is to generate well-solidified leads. These days, well polished marketers use a large variety of social media content to keep business buyers engaged all through the sales cycle. Less savvy marketers choose their own tricks to abstract names to deliver campaign results. This helps engage potential buyers to build value for sales. Implementing the right prospected strategies can benefit you with more qualified sales leads for your business. The different ways to generate leads are:-
1. Making use of online marketing: The world wide web is a global village that connects people. With access to the internet today, one could potentially find a lot of ways to generate sales leads. There is a ton of free information that is available online. When you perform an active research to find companies in a specific industry, explore the websites of those companies well enough and find top-level decision-makers in those companies. It might take a lot of time to get accurate information as it requires hard work and patience to accomplish this if you're not in a position to pay a huge sum of money for paid advertising.
2. Create accurate contact database: Create a contact database by adding your contacts to the CRM system and sending emails to your sales leads. You could send follow-up and occasional emails to your potential prospects so that they become aware of your offers. You could get at a potential risk of getting marked spam if you send your offers for those people who do it wrong. Personalize your emails well if you're attempting a cold email strategy. By employing a good database with contacts you can essentially feed the business well and bring in sales. There are many resources that can help you build contact database based on your target market.
Connect with Right Prospects and Start Generating Leads for your Business Today!
3. Social Media Marketing Tools: Social media sites have sales and marketing tools that can be essential when generating leads to a business. The LinkedIn Sales Navigator is a tool built for sales professionals. LinkedIn is a site that is primarily built for professionals. The Sales Navigator is a professional sales tool that features a powerful search engine with improved visibility into extended networks and highly personalized algorithms that can help you reach the right decision-maker in the market. The attractive thing about this company is that they help you reach your target market promising quality leads. Some of the most effective ways to generate B2B sales leads are LinkedIn, Cold E-mail and reaching out to your target market by searching on your social media groups i.e Facebook Groups and so on. Grow your contacts across social media in a good measure and implement the right marketing tools to generate leads.
4. Email Marketing Strategies: Email marketing is one of the best ways for businesses to reach and engage with their target audience. Email helps you to effectively communicate with consumers through a reliable channel. Consumers enjoy receiving emails from their favorite brands. Be strategic about the way you word every aspect of your marketing emails. Having a good amount of email subscribers and show the level of interest your potential recipients have that urged them to be a part of your subscription list. You could also integrate an option of 'Live Chat' with your e-mail marketing service and enter the email addresses of people to your mailing lists that can potentially help you to generate more leads into your business effectively.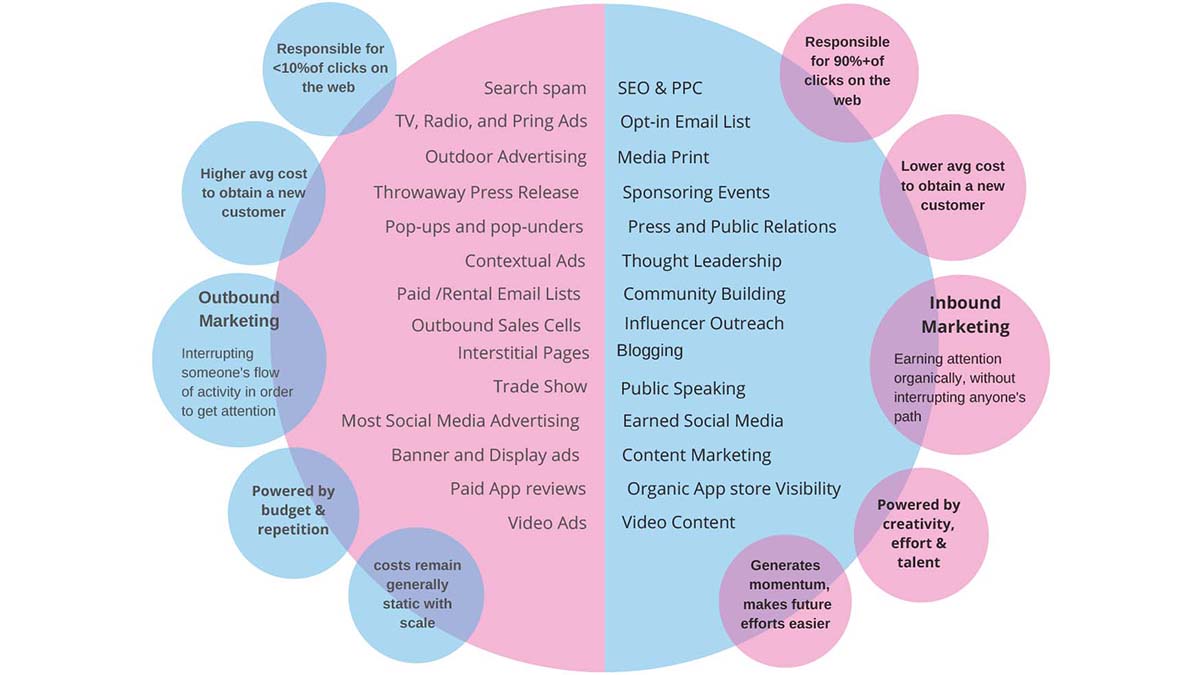 5. Inbound and Outbound Marketing: Search engine optimization tools are an essential part of proper inbound marketing. With keyword analysis and various other SEO practices that encourage you to launch your company at the very top of search results make ensure that your content is view-able by the appropriate audience and thereby generate the right leads effectively and moderately. Blogging is one of the most well-known forms of inbound marketing that plays a powerful role in driving traffic and bringing in leads. Other forms of inbound marketing include online webinars, live events, videos, whitepapers, e-books, e- newsletters, public speaking, online advertising and so on. Some of the outbound marketing methods of lead generation are cold calls, internet pop-ups, and TV commercials which are overwhelmingly outbound. Some more outbound methods are TV/radio ads, Print ads, Press releases.
6. Outdoor Advertising: Outdoor advertising is an advertising form that conveys a promotional message visually using text, logos, animations, videos, photographs, and other forms of graphics. Outdoor advertisers more often target users that have similar traits to increase the advertisement effect. Experiment and find out which advertisement gives you the best ROI and increase your efforts to generate better quality leads.
Your prospects can make or break your sales. It is essential to do a large scale research on your prospect's background, mission and values, number of employees they have, the size of the company and so on. Search their websites and social media platforms extensively and ramble on as much information as you can.
With so much competition between companies today, they don't want to waste time generating leads. Most companies and sales teams use well-advanced software and tools which are efficient thereby generating high-quality leads. It is high time that you use your tools effectively to generate a good amount of sales leads for your business. For any business to survive, it is imperative to have a good database.
Using AverickMedia for Lead Generation
AverickMedia is a team of expert knowledgeable data and marketing professionals that has a combined experience of over 13 years in the industry with a driving passion for all things data and direct marketing. They understand the need for clients to engage with customers and make important business decisions and therefore they strive to ensure it is as accurate as possible to their reach. From employing more than 170 dedicated agents to make over 500,000 verification calls per month to making sure that every single record on their existing database is contacted within a 6 month period, they go a great mile to provide an accurate, up to date and high-quality data to their clients.
AverickMedia database contains over millions of company profiles that are responsible for finding key decision-makers and key accounts, 40 million plus business emails that identify high scoring leads and accounts.
AverickMedia have earned the fortune of having customers that span the spectrum from single-person real estate agencies to Fortune 500 financial institutions. They have a good commitment to customer service that transcends the customer size.
How AverickMedia can help generate leads?
AverickMedia is a team that is committed to delivering an expert service wherein they can quickly identify buyers, champions and influencers with extensive filters. Their data is compatible with a majority of the CRM software available in the market today. With a high conversion rate and accuracy of data competing with other than commercial data sources, they help target businesses through advanced filters by uncovering companies with specific technology installs for competitive-switch or complementary sales. They use post-campaign analysis to mine promotions, response data, and the target universe to identify missed opportunities and determine which lists, segments, or mileage breaks provide the best response rates.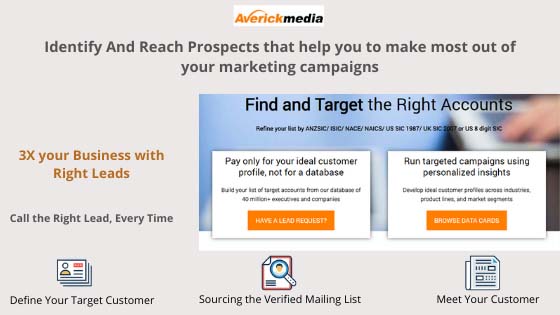 AverickMedia can help generate leads by understanding and providing the business data to identify the best prospects. They help customize marketing campaigns by utilizing their highly deliverable industry, healthcare, technology, executive, Geo targeted lists to help connect with target business effectively. With a wide experience in both mailing lists as well as intelligent data marketing services, they are always in the best position to help and advise prospects on effective campaigns.
One can find the best business leads with access to the largest, most extensive B2B database in the industry. They can select high quality leads by geography, business type, annual sales, number of employees, credit ratings and more.
Businesses can get buy verified and accurate Industry Wise Mailing List and market to businesses in relevant industries, such as Construction, Real Estate, Manufacturing, Hospitality, Education, Transportation, Automotive, marketing, and so on. Also lists are available in a wide range of Healthcare Industries such as pharmaceuticals, medical supplies, catalog mailing, healthcare recruitment and more. Their Technology Users Database contains the most extensive contact details of the IT Professionals, key contact personals and decision makers. One can reach Business Executives, Decision Makers and Professionals more easily and efficiently with the Executives Mailing List.