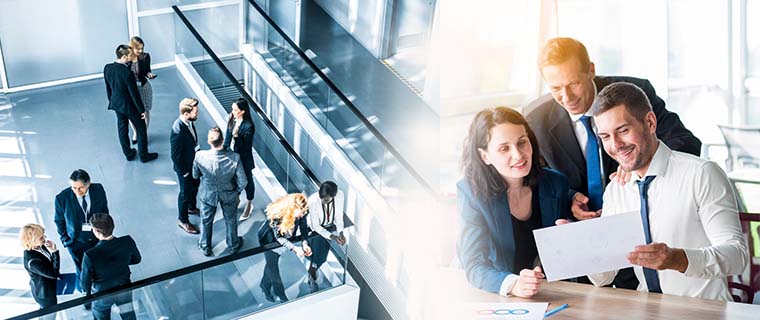 The coronavirus is causing financial difficulties for businesses across the U.S. Here are five resources that can help you navigate this difficult situation.
The coronavirus outbreak has global health consequences, and it puts many small businesses at economic risk. If your business is struggling financially due to the coronavirus, here are some resources that can help.
The coronavirus response toolkit
The U.S. Chamber of Commerce put together this toolkit to help businesses and citizens alike understand how to navigate the coronavirus. There are guidelines on how small business owners can ensure they are keeping their customers and employees safe.
The toolkit also includes a business preparedness checklist. This checklist can help you figure out what to prioritize and to create a plan of communication for your employees.
The Chamber has also created a customizable flyer that small businesses can use to communicate their coronavirus efforts to their customers. You can find the flyer here.
Disaster assistance loans from the SBA
The SBA has created a comprehensive Coronavirus page with all of its resources in one place. You can find that page here.
The SBA announced it would offer disaster assistance loans for up to $2 million for small businesses affected by the coronavirus. These low-interest loans are available to businesses that have sustained "substantial economic injury" due to the spread of the coronavirus.
These loans can be used to pay off outstanding debts, payroll and any other bills they are unable to pay. However, small businesses that have access to credit are not eligible. Small businesses with no available credit qualify for an interest rate of 3.75%, and nonprofits will have an interest rate of 2.75%.
The SBA's Office of Disaster Assistance will coordinate with state governors that submit relief requests. Once a state or territory is approved, these affected businesses will receive more information. You can find a regularly updated list of states where disaster assistance is being offered here.
Even if your state is not yet offering disaster assistance you can begin to prepare to apply by looking over the information required. You can get that information here.
The SBA announced it would offer disaster assistance loans for up to $2 million for small businesses affected by the coronavirus.
State-wide initiatives to help small businesses
So far, the coronavirus has had a varying effect across different states and responses have also varied by state and even local government. The New York City Department of Small Business Services, for example, says it will offer financial assistance to small businesses in the form of loans and grants. The San Francisco Chamber of Commerce also plans to petition the government to waive fees for businesses with low margins. Washington state, the site of the earliest outbreaks, will also offer no-interest loans for businesses that encounter cash flow problems.
Assistance from banks and credit card companies
Capital One, Citi and Wells Fargo have all issued statements indicating that they are willing to work with customers that experience financial difficulties. Citi issued a statement that for 30 days, small business customers are eligible to have their monthly service fees waived.
Citi is also waiving the fees on early CD withdrawals. Wells Fargo donated $6.25 million in aid to help the public relief effort. The bank also encouraged customers that are experiencing financial hardship to contact customer service for assistance.
Federal small business assistance
Plans for federal assistance for small businesses is still underway. The U.S. Chamber of Commerce has called on the Administration and Congress to take critical steps to support America's employers during this period.
The three steps recommend by the Chamber include:
Enacting legislation canceling the payment of all payroll taxes typically paid by employers for the months of March, April and May.
Enacting legislation expanding and streamlining loan programs for small businesses with fewer than 500 employees experiencing revenue loss as a result of the Coronavirus.
Enacting legislation enabling the creation of credit facilities to provide loans and loan guarantees to employers with more than 500 employees experiencing significant revenue loss as a result of the Coronavirus.
Families First Coronavirus Response Act
The "Families First Coronavirus Response Act" is Congress's second legislative stimulus to address the coronavirus pandemic in two weeks. A provision that caused considerable debate within the business world was the requirement that employers provide paid leave for their employees. The provision lays out details on the amount of time for leave and there are differences between how family leave and medical leave are treated.
Congress passed the law with the primary purpose of making sure people continue to get paid. The only way they could agree to make that happen was to insist that businesses provide paid leave and they softened the blow to the business community by making sure the leave will be reimbursed by the federal government, explains Thomas M. Sullivan, Vice President of Small Business Policy at the U.S. Chamber of Commerce.
The legislation includes language that tells the Department of Labor to exempt small businesses with fewer than 50 employees from the paid leave mandates. The Department of Labor is expected to exempt small businesses from this requirement.
Article from uschamber