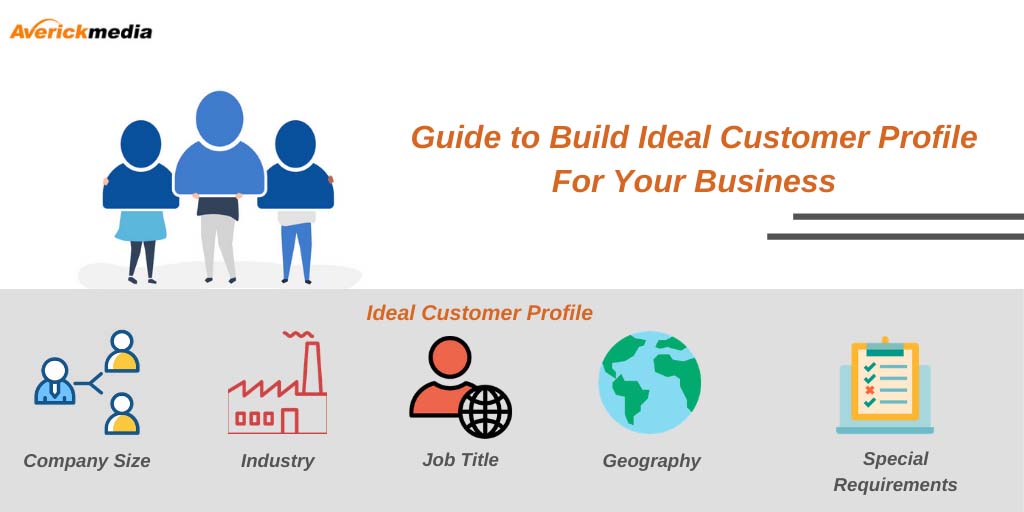 Generating customers to your business is not as easy as it sounds. As customers are the backbone of every business survival, it is essential to build customers with an ideal profile for your business.
The ideal customers are essentially the ones that bring a driving success to the company in return making you feel satisfied and overwhelmed about your job. Understanding your ideal customer profile can benefit you with a high quality lead generation, higher conversion rates, customer loyalty, and high quality products and services. By spending time to create an accurate well detailed customer profile, you can work with the best customers.
You can specify the elements selectively to include in your ideal customer profile by the kind of industry, revenue, age, location, technology in use and so on that measures an accurate picture of your ideal customer. As you create your ideal customer profile, explore on their common interest and further requirements and align the activities throughout your business so everyone can best serve those customers.
The importance of an Ideal Customer Profile (ICP's) are:-
With an ideal customer profile a business can develop effective targets to build marketing and sales to the business.
The more detailed the Ideal Customer Profile is, the more accurately companies want your service and give you business.
ICP's can help employees across your entire company to get a clear idea about the identity of your customers.
The more precise your Ideal customer profile is, the better you are to achieve targets through sales and marketing initiatives.
You can easily identify and attract high qualified leads who are ready to buy from you.
Ideal Customer Profiles gives you access to resources that help you grow your business and providing valuable insights into newer opportunities.
They help you to derive value from your product or service by recommending you to other potential customers.
By directing your team and resources to building high-quality leads, you'll save time and money on pursuing the wrong leads.
A well detailed ICP also helps you better understand the right strategies to implement by selling to your customers, which means employing more accurate forecasting, more winning deals, and more well predicted sales.
An ideal customer is well prepared and willing to purchase your solution. Beyond that, they're also likely to bring extreme success with your product and service by maximizing your profitability, providing you with referrals, and even becoming brand advocates.
Ways to Build Ideal Customer Profiles
By determining your Ideal Customer, you are able to figure out who you're targeting. It is imperative to customize and build your Ideal Customer profile to generate success to your business. To build an customer profile, you need to follow these 5 steps effectively:-
Get the accurate client data: The first step is to pool together as much as all information that you have on your existing customers. You can identify who your strongest customers are through the value they bring to you. Record as much information as you can and put them together in a sheet. Next, have a drill down on the numbers. Find out effectively the revenue that they bring. The number of referrals they have got you. How much revenue have they acquired? How are they influenced according to market standards? Which background do the decision makers come from? The demographics of the business. Review the obtained data by investigating the information gaps. Have your records well shaped and neat. Rectify the typos, missing information, irrelevant data, updates and review the other things extensively.
2. Describe the identity of the Ideal Customer: The second step to developing an accurate ICP is by describing the identity of your Customer. Then move forward to segregate your customers based on demographics like-
Industry
Geography
Age
Size
....and more
Location
Revenue
Number of employees, offices
Technology in use
As you get the relevant data from the customers, use it to understand who your ideal customer is. Find the similarities and patterns and rectify it. By looking at the information recorded, you can get a clear idea as to what your ideal client looks like. Don't create first-level assumptions by a first sight. Instead, follow the objective pattern where you can use numbers. This doesn't necessarily mean that you have to rely on quantitative data but analytics. As you bring together the key people in your business, interview them about your clients. You could ask them a few questions you can ask to learn more about their buying behaviour and process. What kind of research do they perform and how often before making a purchase? Do they depend on referrals to find solutions to their business? Where did they hear about your company? Who is the decision maker when it comes to purchasing? What made them pursue a decision making solution from you? What prompted them to use your solution?
3. Conduct a case study: The Third step is to conduct a case study to understand your customer's experience with your product. Case studies are effectively one of the greatest ways to let companies know how valuable your products or services are and how they can benefit a customer. They are one of the best marketing communication strategies that help drive customers to a company's product and services. The goal of a business case study is to make sure that the business achieves its desired results from it's Ideal Customer. Understand the challenges faced by the Ideal Customer. Find a solutions base to create a common ground of improvement for benefiting both the Ideal Customer and the business and then create a positive final outcome for the Ideal Customer. The case study helps provide social proof to customers and prospects.
4. Customize and create your ICP template: The third step is fit your ICP into a template's framework. Create a template that is flexible and can be easily updated, then make it a part of your marketing and sales planning where you can promote your business through your Ideal Customer. But don't let the template tied but make sure to always be open to adding fields and updating as you go. You can customize your ICP template on Get Drip. As you land on the page, you will have to fill in your email address in order to receive a free copy of their ICP template. This will help you to target and define your ideal customer segments and inform your targeting, prospecting, pitching, and sales. You can download your ICP framework to get started. It has a step-by-step instruction manual alongside the ICP template.
5. Identify where your Ideal Customers are and start targeted lead generation campaigns: After getting to know what kind of customers you should target, reach the decision makers and make your presence felt in the channels where they are. By targeting the right techniques of marketing, you're adding value to the sales and marketing strategy which fits the persona of the ideal customer profile which helps leads pour in. Most companies and sales teams are using well-advanced software and tools which are efficient and thereby generate high-quality leads. If you have a well qualified lead generation process, you can find the right fit of customers for your business needs. When you focus on targeting a certain segment of the market to generate and appeal leads, you polish your marketing skills from the client partnership that you have gained through marketing and sales operations which in turn bring success.
After building an customer profile, you can generate high quality leads with features that match your ICP. You can develop marketing and sales strategies to optimize your customer base. You can compare your ICP to the rest of your customer base, and current prospects to see if any relevant patterns emerge. That's why it's so important to build your ideal customer profile into the very fabric of your organization. This is how top companies keep focus on their ideal customers. Not just by writing something and ignoring it but by implementing it in their decision making. If the nothing serves the ideal customer, then it's probably a waste of time, energy, or resources.
By the data you've acquired or the information you're researching, it takes time to create an ideal customer profile. When the process keeps drilling, it makes you feel like you're investing a lot of unwanted time in it. But the time and efforts that keep dragging you will make you clarify your ideal customer profile to pay big in return generating your marketing and sales efforts to become more successful. Your team will work to design products that suit the needs of your customers. Executives will implement decision making regarding marketing strategies to attract the target market. All this will result on big returns to your business.
So, what's stopping you from having an ICP? Prepare and gather the data today step by step.
Advantages of an ICP
Creating an Ideal Customer Profile is advantageous as it provides a number of benefits. They essentially pay you right for the value you give them. But there are many other secondary ways a customer could benefit your company:-
They help in company referrals.
They essentially become brand advocates for your company.
They gain you access to resources so that you can grow your business to its potential.
They help provide you with valuable insights into new opportunities with other businesses.
They're gradually pleasant to deal with and don't require support from any source.
They allow you to use their logo and provide a testimonial that can be helpful in your marketing materials.
They are used to identify the most valuable customers and prospects that are also most likely to buy.
They work wonders for being a constant and never-ending support of positive feedback and encouragement for your team to work harder.
They help serve as the foundation for sales, to improve sales development, marketing and customer support teams, motivating them.
They aid in helping all organizations create cross-functional alignment and dedicate additional resources to the right customers and prospects in business.
Conclusion:
When you get familiar with the buying behaviour of customers, you should be able to get a result on how an ideal customer profile can benefit you in your marketing and sales. Marketing becomes easier if you are aware of their priorities and resources they have available to deal with them effectively. Building Ideal customer profiles can help employees in your entire company and benefit them greatly. Collecting and sorting data from Ideal Customers can extract time and hence taking it up much prior helps to gather your ICP together. When you don't have the data you need from your Ideal Customer, then that will take a long time.
Top level executives will need a clear understanding who the ideal customers are. Broadening the company, making a market pivot, and setting professional and organizational priorities should be guided by the ideal customer profile. Your team, when developing new products should make changes effectively to the existing ones which will help save a lot of time if they focus accurately on the company's ideal customer. Integrating a right flow of leadership, communication and implementation benefits only if the team knows your ICP and are motivated to use it in the right way.
But ultimately in B2B, it all boils down to how you hit the rock bottom of your business and it's ideal customer. If your business solution doesn't have a direct correlation with profits or your ideal customer, you should be ready to face how it will directly affect the organization's finances, resources, employees as well as customers.