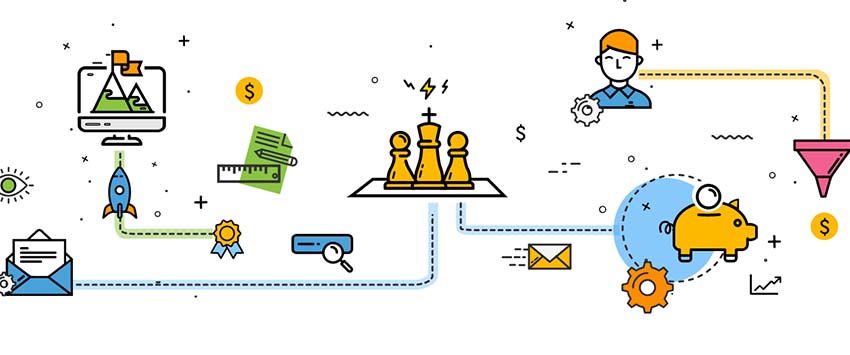 Based on a recent study lead generation has become a very important aspect in sales and marketing that marketing professionals are increasingly integrating into their work responsibilities.
This would be working with the overall goal of generating leads that have the biggest opportunity of getting converted into sales. There are basic lead generation metrics that you needed to track to estimate the success rate of your lead generation efforts.
These 5 metrics will tell you how the campaigns are performing, and it helps to figure out the performance and impact on any particular creative ads, or landing page.
1. Conversion Rates
Conversion rate is used to calculate the rate at which users perform an intended action like filling out a form, make a purchase, download an eBook, etc. It is calculated by dividing the total number of leads by the total number of conversions.
Your conversion rate is related to the number of conversions on your site. It is the percentages of people who enter your site and convert. To get that percentage, your analytics software looks for the total number of visitors to your site in a time period and divides it by the number of conversions on your site.
Your conversion rate tells whether you are efficiently generating new leads with your website. A high conversion rate (like 5%) means you are giving people the information they want and successfully convincing them to contact you. A low conversion rate (like 0.1%) means people are not getting the information they need and are likely leaving your site for your competitors.
If your conversion rate is high, then keep doing the same work. If your conversion rate is low, look at your pages completely and identify the areas and improve them. That means including visuals or large and understandable topics that are particularly important to your customers.
Though this metric is ordinarily linked specifically to website conversion, it can be easily applied to many lead generation channels, helping your team understand how much data and outreach is needed to produce desired results.
2. Click-Through Rate
Click-Through Rate is used to determine the performance of a Call-To-Action. It is expressed in percentage and calculated by the total number of clicks divided by the total number of views, then multiplying the result by 100, which appears click-through rate in a percentage form.
It is a percentage how many users actually click on the links that you placed on your landing page, ad campaigns, emails and more.
For example, if you are running a campaign where you're getting traffic through Ad Words and sending it to a landing page to fill out the form. After a visitor enters his contact details, he gets a verification link to the email address. And when the email gets verified then, we can call this visitor a "lead".
For this campaign, you should have three CTRs to track:
CTR for PPC ad
CTR for landing page
CTR for the verification email
This metric focuses on lead generation strategies that specifically include links. If you send an email without a link, there is nothing for the recipient to click, so you cannot measure click-through rate. A low CTR indicates that you are marketing the wrong kind of content to a particular segment, whereas high CTR generates a good response from your audience. These insights will provide you how to improve the campaigns and generate good results to make your campaign successful.
3. Time to Customer Conversion
If you want to know the length of time taken to turn a target audience member into a paying customer then, time to conversion is the metric that help to determine the response time of various leads to a particular lead generation campaign.
This metric tells you how fast a targeted audience will respond and take action towards conversion for a particular lead generation campaign. Some will be slower while others generate quick response times. You must track the total time to conversion for every stage of your funnel (visitor to lead, lead to opportunity, etc.) because these insights will give you an idea of your lengthy sales cycle and makes effective adjustments to your campaigns.
Tracking time to conversion is straight forward. It is calculated by the total time spent by all your visitors before a conversion, divided by the total number of leads.
4. ROI
ROI is used for measuring the financial return on the budget allocated for marketing campaigns. It is calculated as the total amount of revenue generated by the total campaign cost.
ROI is the most important metric in any campaign. It tells you how much revenue return has been gained for specific marketing campaigns. This is expressed in ratio or in percentage forms.
Measuring ROI can be challenging, especially when you offer more products. To get good results, you must calculate the total costs for every stage of the funnel as well as the total amount of the revenue generated.
In simple ways, you can start measuring the total cost of a lead that includes:
Total Cost for creating an offer, including content and landing pages.
Total money spent on getting traffic.
How much you expect from each verified lead?
For example, if you start a direct mail campaign for $800 that generates only 8 leads, but made 4 sales of $1600 each, it seems you got good ROI there. Even if you didn't reach the specific targets you wanted, the money invested provided to return, it proves that another direct mail campaigns would benefit your strategy and be a sensible use of budget.
5. Average Close Rate
Average Close rate keeps track of the quality of your leads at any given period to help you to determine that you are attaching high quality leads with high conversion potential or not.
You can generate hundreds of leads through successful conversions, but you need to make sure that the leads should be qualified leads. So, to get quality leads this metric is used.
It is good to generate a large number of leads, but if they don't match your criteria, it seems you have wasted your money and efforts gaining a useless business contact. Understanding how many of your leads generated are successfully qualified by your team provides you detailed insights into lead quality, ensuring that you are targeting the right audience, and gaining the right attention.
For example, if you achieve a 5% conversion rate and generate 15 leads, but you didn't convert any sales it means these leads are not qualified leads. There is high potential if you are not reaching your target audience. If this happens, you need to adjust your campaign tactics. Alternatively, if you achieve that 5% conversion rate, generate 15 leads, and convert 10 sales, it means it is an extremely successful campaign! Talk to the customers that you are converted and ask them what led them to visit your website and ultimately fill out your form or call your phone number. By this, you can understand customer's requirements and based on that you can improve your next campaigns.
Conclusion:
These are the 5 important metrics for tracking lead generation, but these metrics are applied to every marketer and salesperson. A Successful business depends on quality lead generation, which depends on marketers using the best possible techniques in their campaigns.